Pasatiempo: Terran Last Gun's 'Seeking New Energy
5/22/2021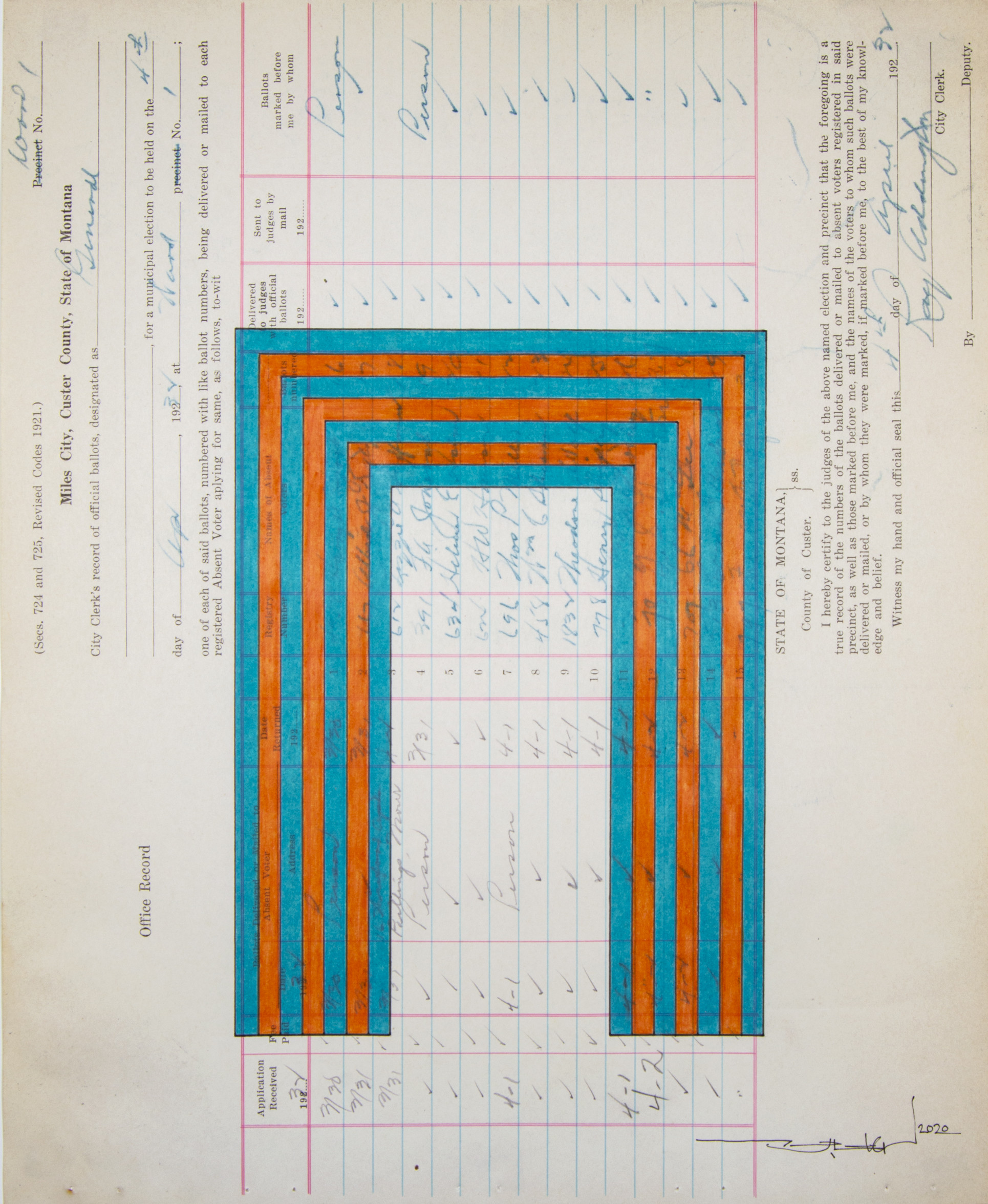 The antique ledger art of the Plains Indians often depicted scenes of battle exploits, hunting, and religious practices. The art form flourished in the latter half of the 19th century and early 20th century. Artists used ledger drawings as a way to document loss of culture and commemorate the heritage of warrior societies.
Visual artist and printmaker Terran Last Gun (Piikani), references the tradition in Seeking New Energy (2020), which follows the historic practice, but only up to a point. The drawing, which is available at Hecho a Mano (830 Canyon Road, 505-916-1341, hechoamano.org), is rendered in ink and colored pencil on antique ledger paper from circa 1934. Last Gun's work often features vibrant color relationships and reductive, geometric forms that reference Piikani visual iconography. Seeking New Energy shows an arch form composed of alternating bands of blue and orange. It dominates and obscures the writing and check-marked lists of the document, which is a record of official ballots received by the city clerk in Miles City, Custer County, Montana.
"My work seeks to activate ancient Piikani symbols and ideology through color interaction," Last Gun says. "I often get lost within my own work, allowing the energy radiating from it — in this case, on antique Montana ledger paper — to fuel my mind and body, taking me to old times, yet far into the future."
While the viewer can see signatures and handwritten numbers bleeding through Last Gun's bands of color, it's his design that creates the greatest visual impact. The image suggests a doorway leading from one place to the next, or one plane to the next.
The name of Custer printed on the ledger page recalls the infamous cavalry commander George Armstrong Custer and his crushing defeat at the Battle of Little Bighorn in Last Gun's home state of Montana. Despite the contrast between
Seeking New Energy's
conceptual presentation and the narrative scenes depicted in its historic antecedents, it hints at the kind of exploits they commemorated.