Introducing Hecho a Mano Editions with Daniel McCoy
9/11/2020
We are excited to share with you our newest project, Hecho a Mano Editions! Working with master printmakers at shops such as Black Rock Editions (aka Landfall Press) we will publish several editioned works a year in collaboration with New Mexico and Mexico-based artists.
Daniel McCoy's Canyon Walls near Abiquiu is our first edition! We first saw Daniel's work in a critique at the Institute of American Indian Arts and made note to pay attention to his career. After exhibitions of his landscape work at Etiquette Gallery and then the New Mexico Museum of Art, we knew we had to find a way to work with Daniel.
This is a four-color lithograph printed in collaboration with Black Rock Editions here in Santa Fe. Canyon Walls Near Abiquiu is 21 x 25.5 inches with full margins, printed on Rives BFK in an edition of 50.
Read on to learn more from Danny about the process of creating this fantastic limited-edition lithograph.
Canyon Walls Near Abiquiu by Daniel McCoy
Since the quarantine began in March of this year, the studio I usually occupy at the Poeh Cultural Center in Pojoaque has been closed. The large oils I usually produce during this time have slowed to allow other techniques to appear, such as murals, printmaking, drawing and writing. This change in routine has been one of the many blessings I have experienced during this strange time.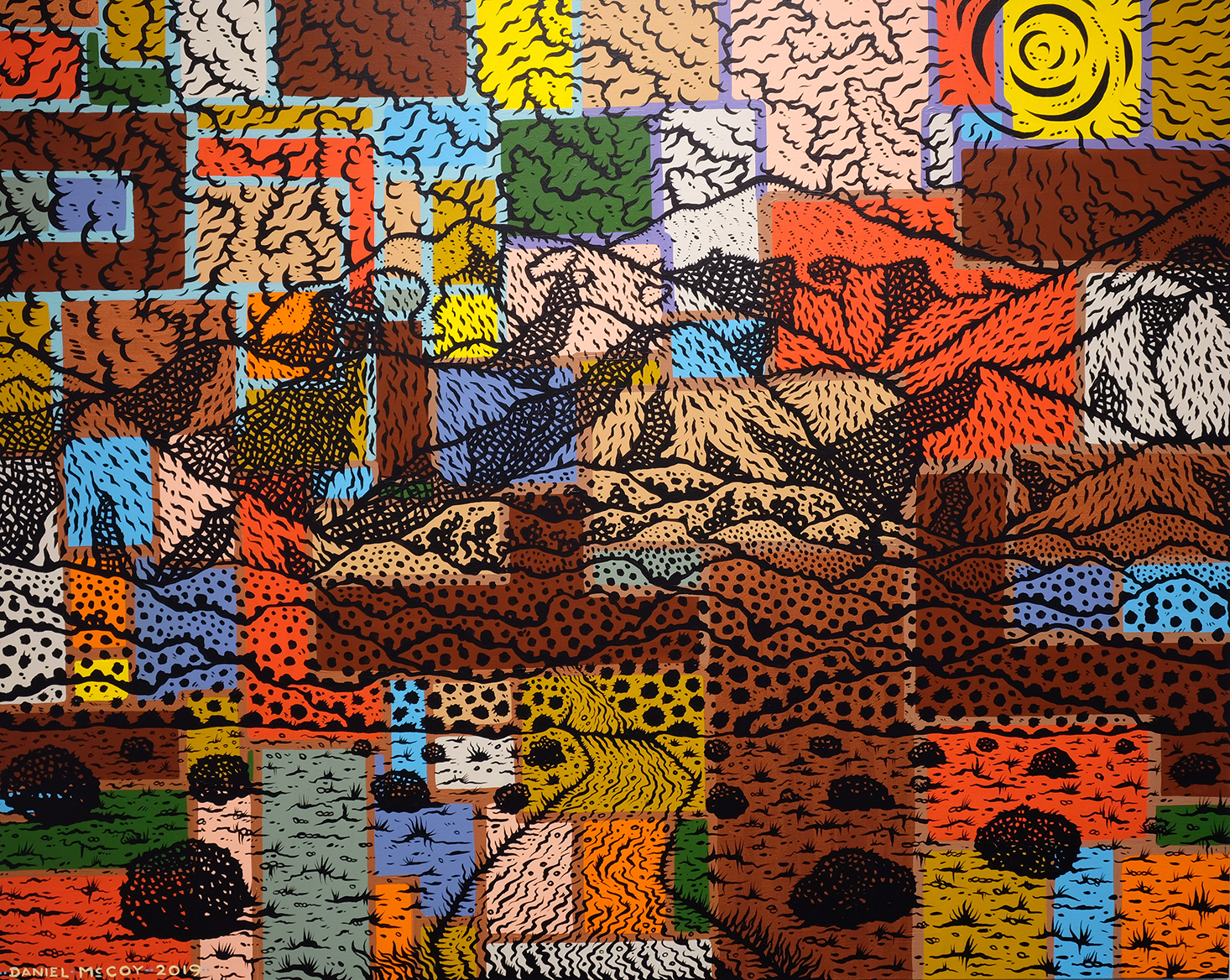 Daniel McCoy, A Path to Clarity, 2019, acrylic on canvas
When it comes to the landscapes, I like to pick subject matter that is historically a point of interest in New Mexican art. I am also quite aware that an original landscape can be produced from ordinary almost bland scenery. It is then the responsibility of the artist and their mark making to produce a piece of work that is unique. I had been studying the work of "The group of Seven" from Canada. The works that this collective produced in the 1920's is absolutely fantastic. I wanted to combine New Mexican Landscape, The Group of Seven, Comics, and Printmaking to create something I had never attempted previously.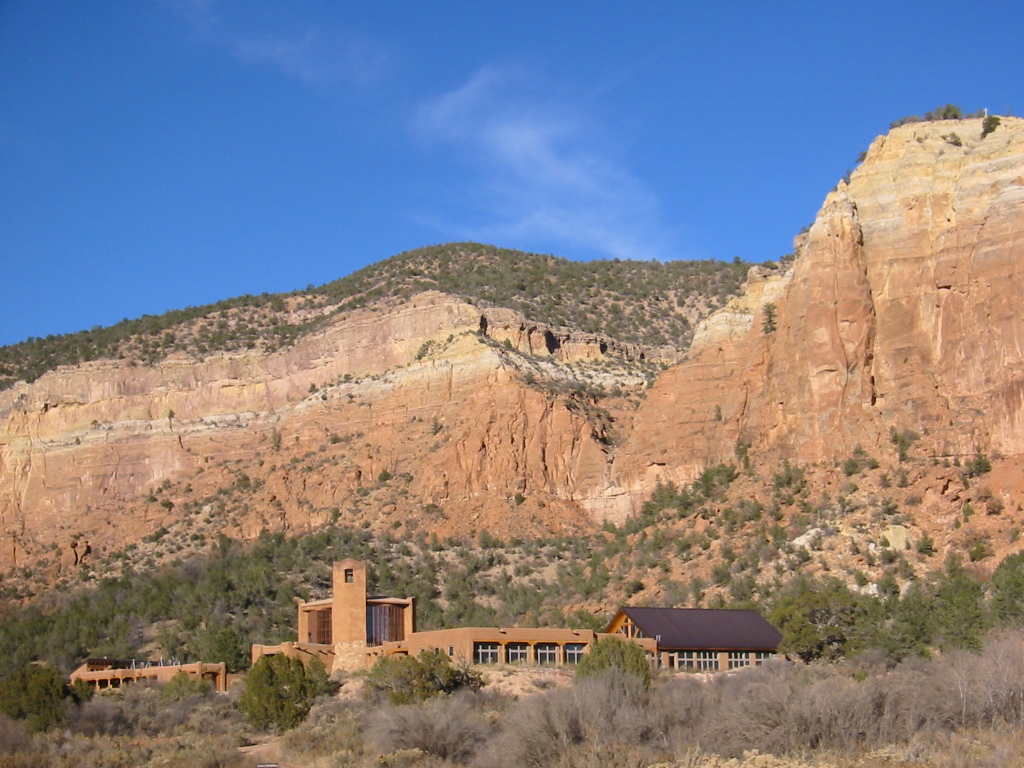 Christ in the Desert Monastery
The reference photo and drawing were from an area known as "Christ in the Desert" which is a Benedictine Monastery on the banks of the Chama River near Abiquiu, New Mexico. The Canyon walls along the Chama River were particularly interesting to Me, at any angle a proper landscape could be produced.
A drawing was first completed, then presented to the team at Blackrock Press in Santa Fe, New Mexico. A Mylar was then produced with .000 brush and black Gesso. The black Gesso had a bolder stroke then what had been completed with India Ink and brush. The outcome produced a tighter Illustration that usually took between six to eight hours to complete. The black linework is usually a meditative process for me. I start in the top left corner, then throughout the day I work towards the bottom right corner until complete. Usually this is the last portion of the double or triple coated at the end of the end of the landscape but since this is Lithography, it is the first.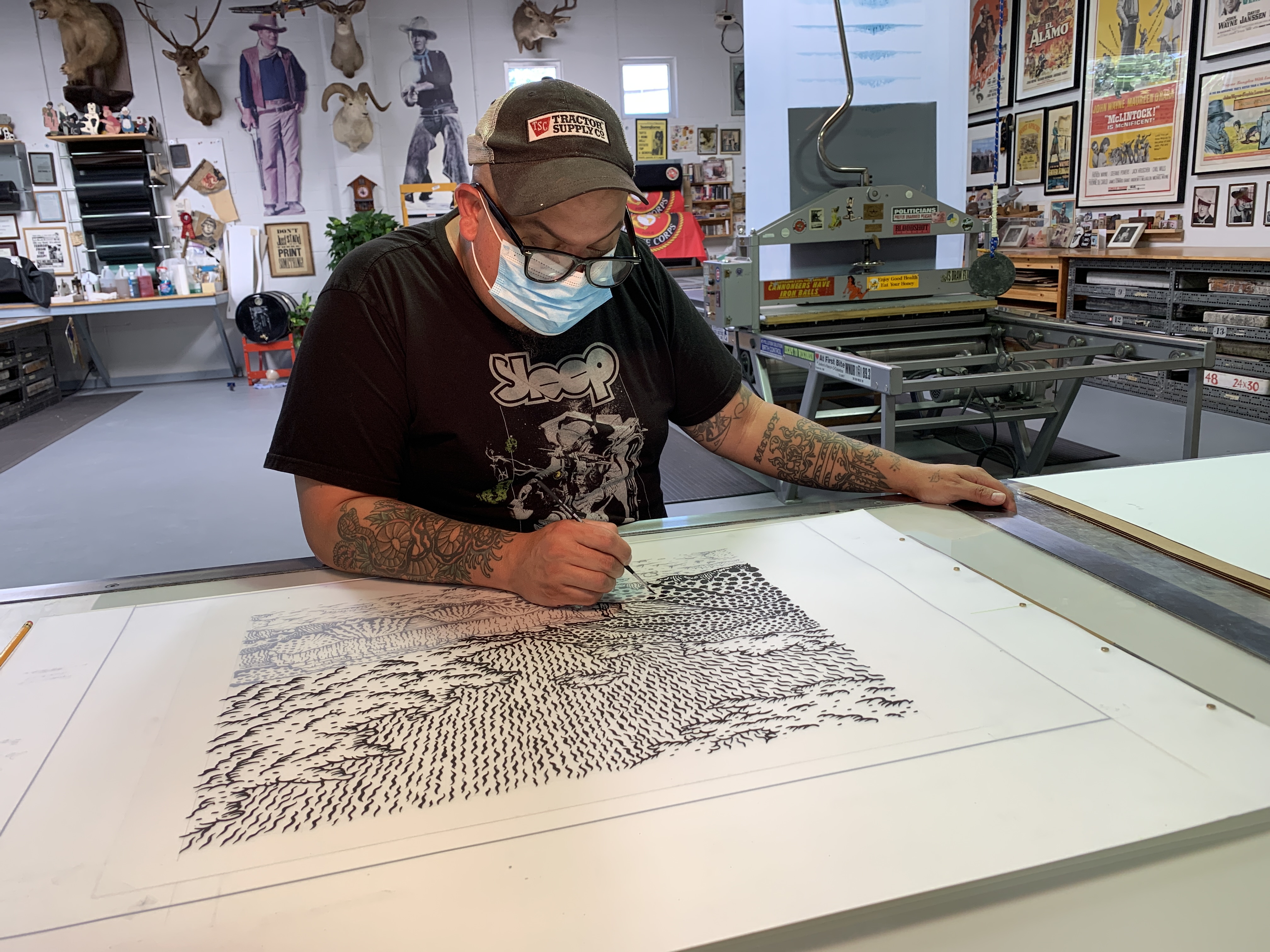 Danny at work at Black Rock Editions
For the color, I must admit I was a bit stumped at first. I was used to several colors and we were to only use three for this Lithograph. I was introduced to a Toner Wash technique by Master Printer Steven Campbell. This process is performed my brushing or puddling on heavy layers of black toner and water on the separate color mylars. Once it is dry, it produces these wonderful fiber-like layering of color. Then by layering the colors on top of each other many transparent tones were then produced. The foreground areas were completed by feathering or heavily applying layers of Stabilo pencil, then creating contour or etching lines with an Exacto knife onto the Mylar.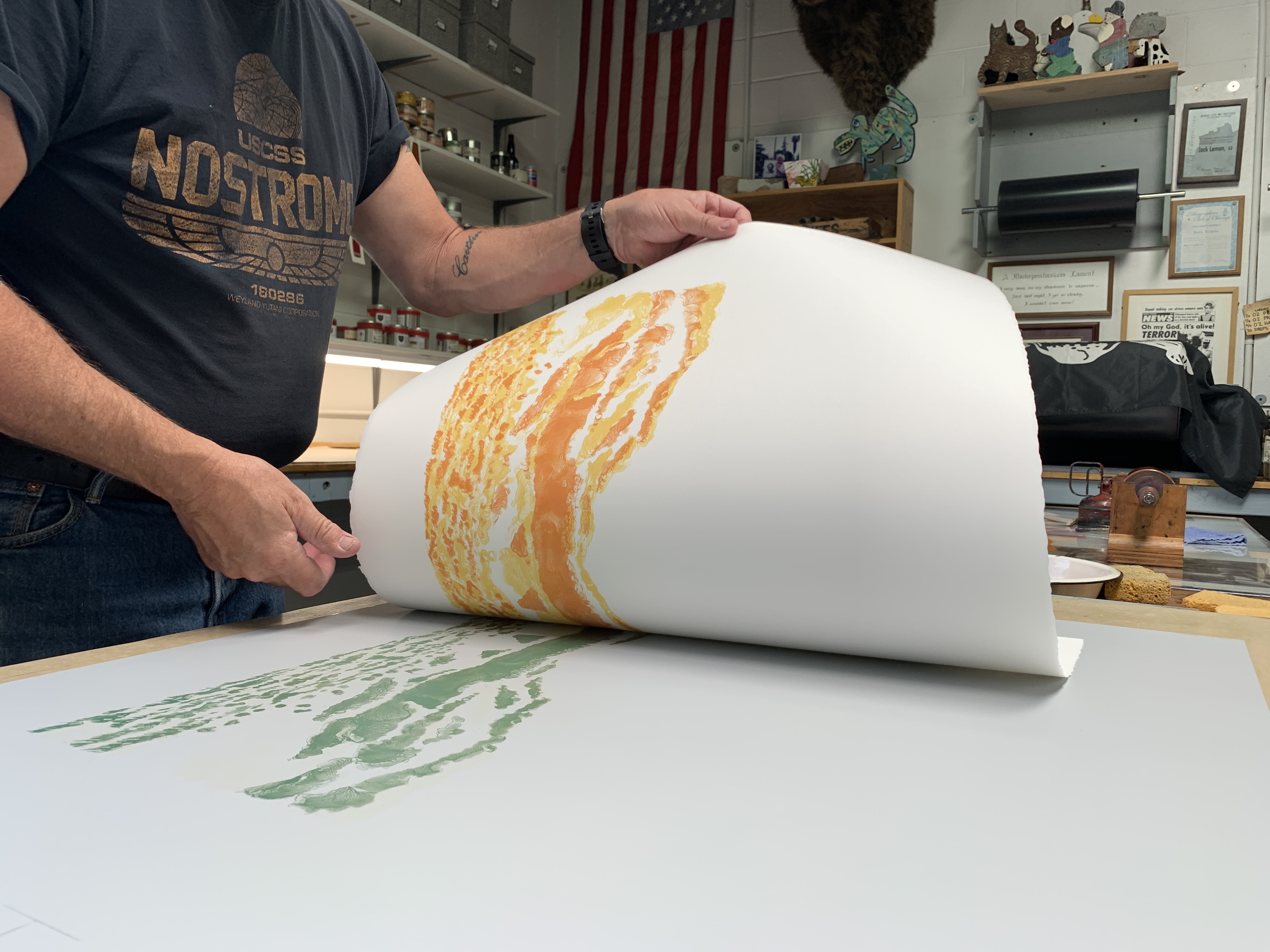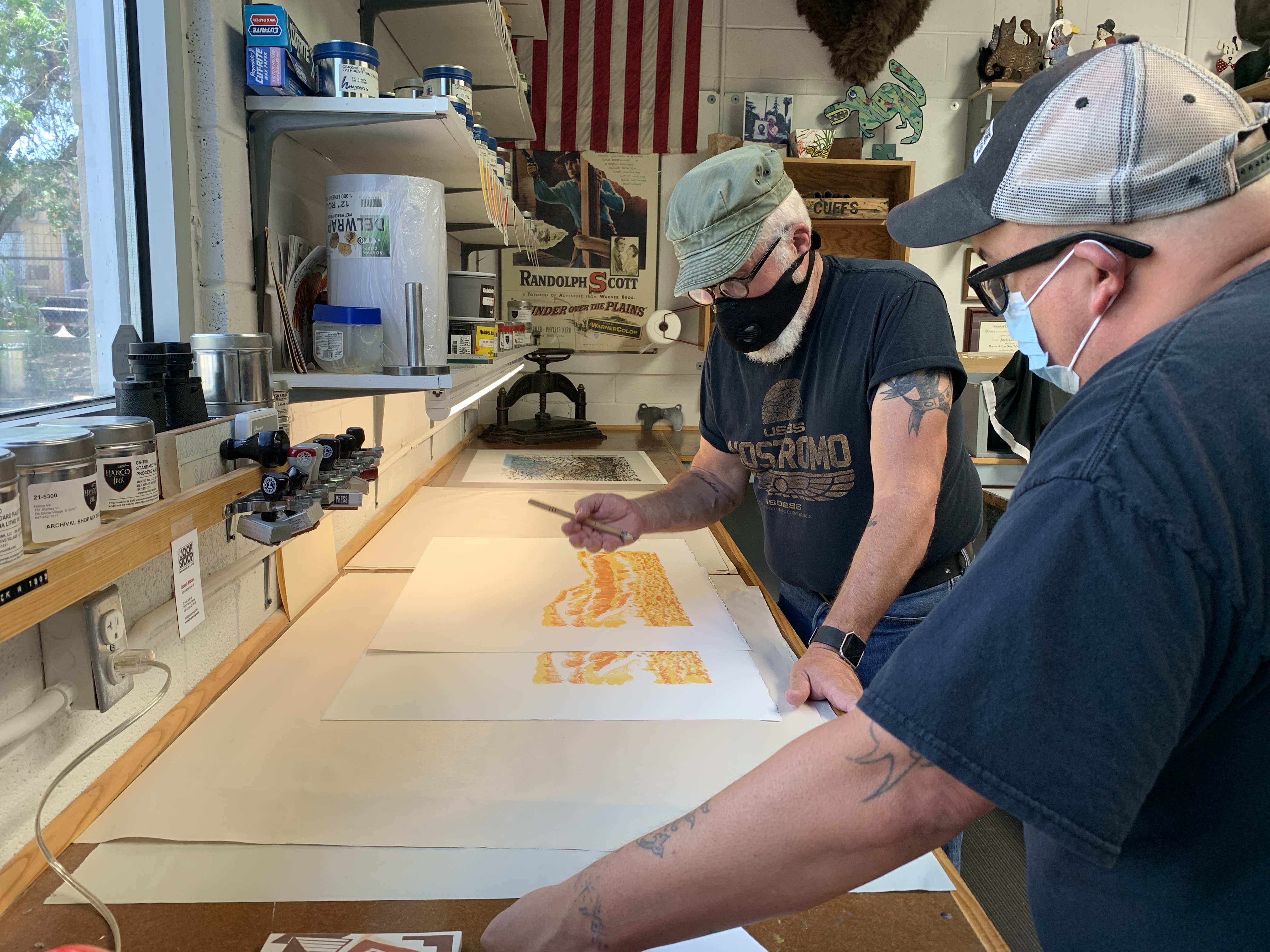 This reticulation process was venturing into the unknown for me, and I cannot be happier with the results. This session has opened a new door for myself, I am incredibly grateful to the team at Black Rock Editions and Frank Rose at Hecho a Mano for this wonderful opportunity.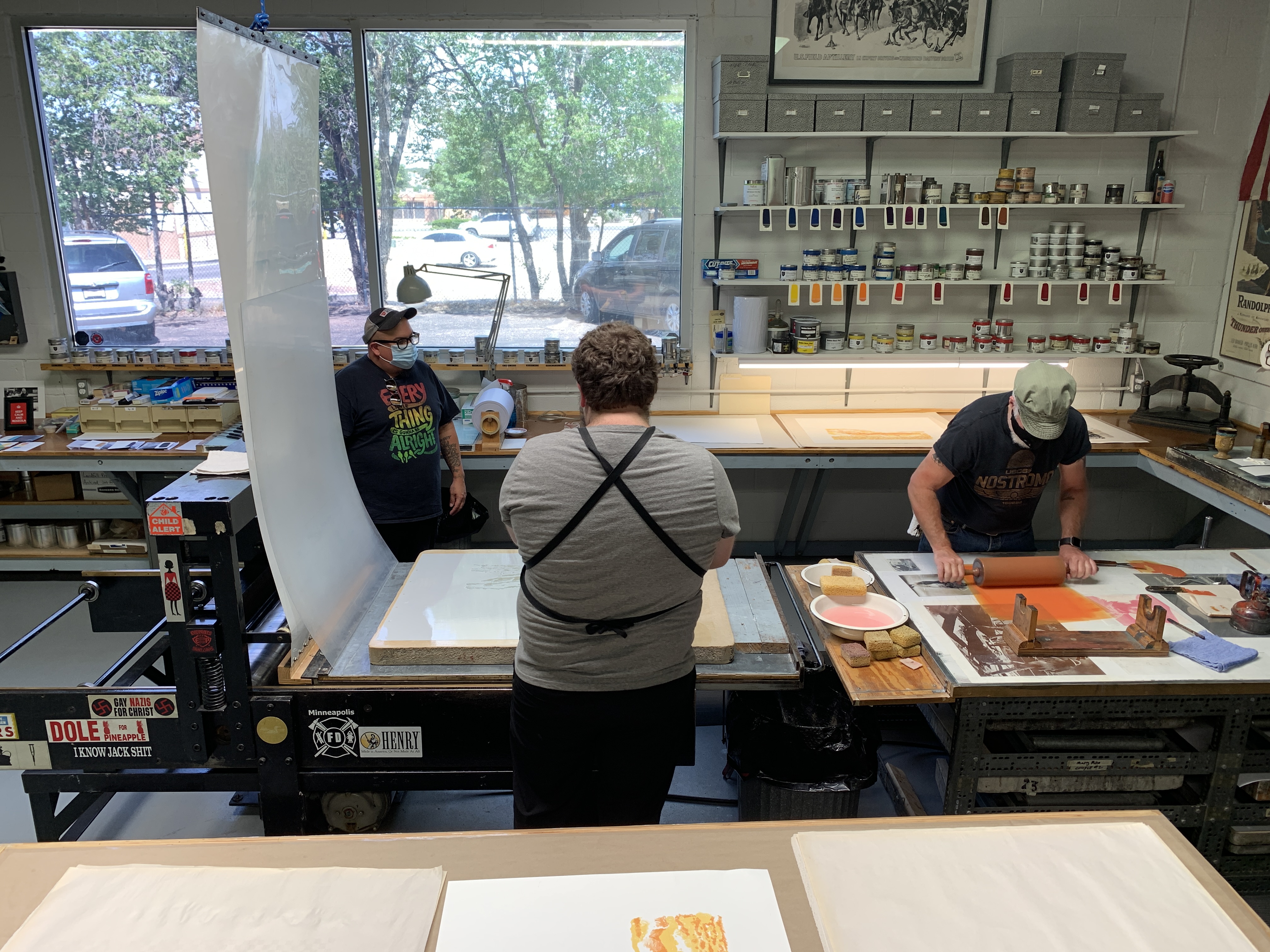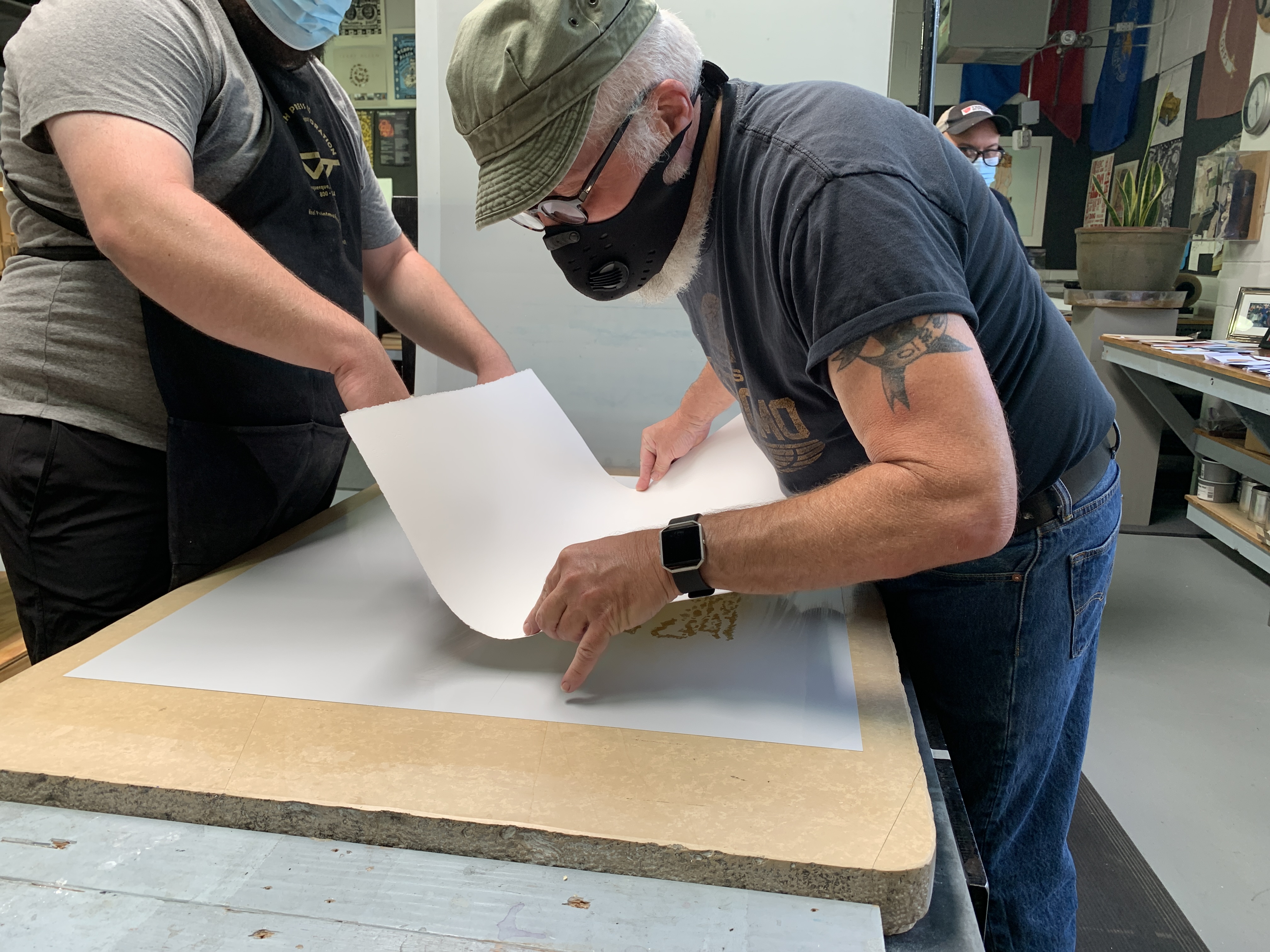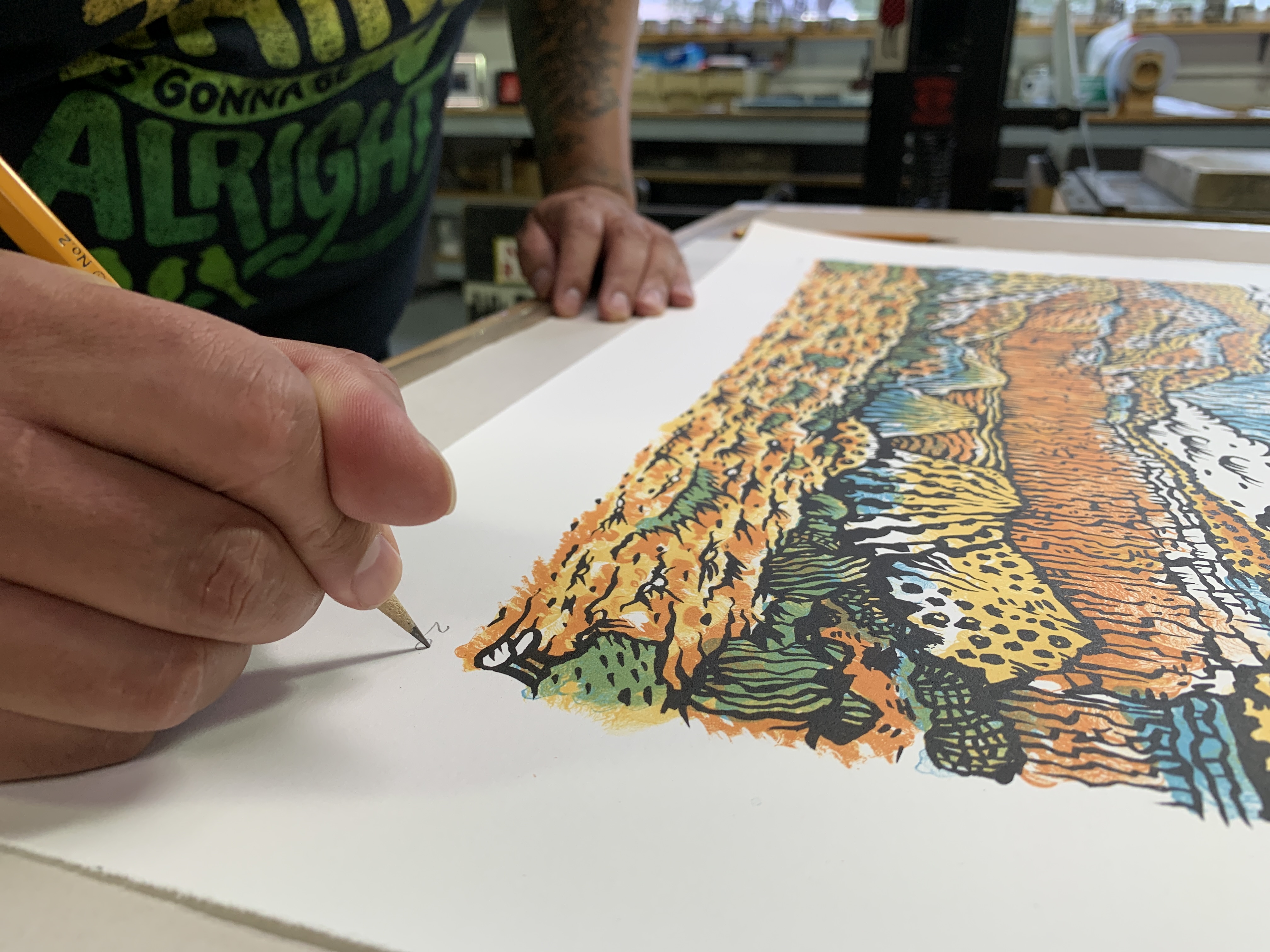 The finishing touch!