A Creative Excuse #6: Terran Last Gun
5/21/2019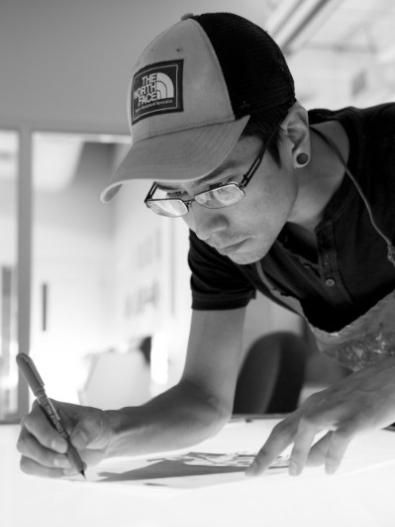 Terran Last Gun (b. 1989) is a contemporary visual artist working in printmaking, photography, and painting. Last Gun (Sahkyiinamahka) is an Amskapi Piikani (Blackfeet) citizen of Montana, who are a part of the Blackfoot Confederacy (Siksikaitsitapi). He is best known for his bold geometric works on paper, which often explore the interaction between color, form, and memory, all while reflecting Blackfoot visual aesthetics and philosophy.

Last Gun primarily works with printmaking and the technique of serigraphy, to produce fine art limited edition prints. He has begun to take his imagery and creative process into alternate mediums such as painting and photography-based projects to further imagine new views and continually tell Indigenous narratives through visual language.

Born in Browning, Montana, Last Gun received his AS from Blackfeet Community College in 2011, and his BFA in Museum Studies and AFA in Studio Arts from the Institute of American Indian Arts in 2016. He is a recipient of the Santa Fe Art Institute, 2018 Story Maps Fellowship, and the Museum of Indian Arts and Culture, 2016 Goodman Aspiring Artist Fellowship. He currently lives and works in Santa Fe, New Mexico.